Hotel Booking Sites: one of the most time-consuming and crucial aspects of vacation planning is locating the best hotels. Site selection should not be taken lightly as one of the most significant expenditures.
To assist you in finding the best hotel at the most affordable rate, we have compiled a list of the top 5 hotel booking sites.
Browse the options and learn which offers the most appealing features and where to find the best deals.
  
Hotwire.com
In case you don't know what Hotwire is, your search for a city, and Hotwire shows you a bunch of hotels at usually pretty good deals. 
They don't tell you the hotel's name, though.
 
User-friendliness
Hotwire's page load speed was very very low at 11.1 seconds.  This is truly unexpected as the website overall design seems very light and simple.  Researching and booking hotels is fast and easy, and the map feature is a blessing.
 
Prices
You'll always get a better deal with Hotwire's Hot Rate mystery hotels than if you book it anywhere else.
However, the pricing was pretty misleading to us. A price and a price crossed out symbolize the price you'd normally pay for this hotel. The original price, however, is closer to the top price you could pay.
 
Inventory
When booking mystery hotels with Hotwire, you have fewer options than with Booking.com or Expedia. 
Hotwire has the best selection of these kinds of deals.
 
Rewards
We're a little disappointed that Hotwire doesn't have a rewards program. 
 
Our Verdict
It gives you information like ratings and location. It also covers four hotels and guarantees that the hotel you're booking is on the list.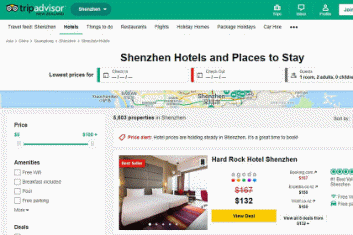 TripAdvisor
TripAdvisor is a hotel-focused comparison website. Similarly to a search engine, it allows you to filter your results and arrange them in various ways. It's useful for browsing hotels that might interest you and comparing the costs of staying at different booking sites.
 
User-friendliness
It's a breeze to navigate TripAdvisor. You can see whatever you need to see and easily filter and sort the provided results.
According to our testing, the average page load time across all hotel booking sites and metasearch engines in our list is the slowest at 15.1 seconds. Nevertheless, it didn't feel slow, so we advise trying it. Sometimes the numbers aren't always accurate.
 
Prices
The prices on this metasearch engine are similar to what we've seen from the other hotel metasearch engines. They include many smaller hotel booking sites we did not catch on KAYAK or Trivago, so you can get lower prices if you are willing to use these.
 
Inventory
The hotel inventory on this site is vast, and we were able to produce results comparable to those generated by Booking.com, Expedia, and Agoda.
Rewards
Unlike other metasearch engines, TripAdvisor doesn't offer a rewards program. You can use all of the rewards schemes the website's partners provide.
 Our Verdict
It's our first pick for a hotel search engine. Although we often compare hotel prices between sites, we mostly use them for their reviews.
 
Trivago
You can find the best hotel deal with Trivago, a metasearch hotel booking engine like KAYAK and Google Hotel Search.
 
User-friendliness
This was the easiest hotel metasearch engine that we have ever seen. It loaded in 4.7 seconds, which is faster than most of our favorites.
We liked being able to filter by price when searching for hotels.
If you find a hotel you want and the price you want, click straight through to the final booking site.
 
Prices
Despite the good prices here, we had two major issues with Trivago's pricing system.
It's important to note that the cheapest deals are usually found further down the page.We suspect Trivago sorts by their most profitable offer.  Our hotel isn't always the cheapest here. Expedia owns them, so understandably, they'd be biased.
Trivago sometimes lists cheaper members-only or special offers on the exact same websites listed by Trivago.
 
Inventory
Although Trivago has a lot of hotels, we couldn't find many lesser-known hotels around the world. You can find these hotels on other booking sites, like Booking.com. 
 
Rewards
It's pretty standard for hotel search engines not to offer rewards programs.
You'll still earn points whenever you book a hotel through an affiliate website.
 
Our Verdict
We love smaller, less well-known hotels. Trivago doesn't have them.
You'll get the same price as researching sites like Booking.com, Agoda, and the famous Hotel.com.
We believe metasearch engines should provide the lowest prices and the widest inventory. Trivago does both, but not at a great quality.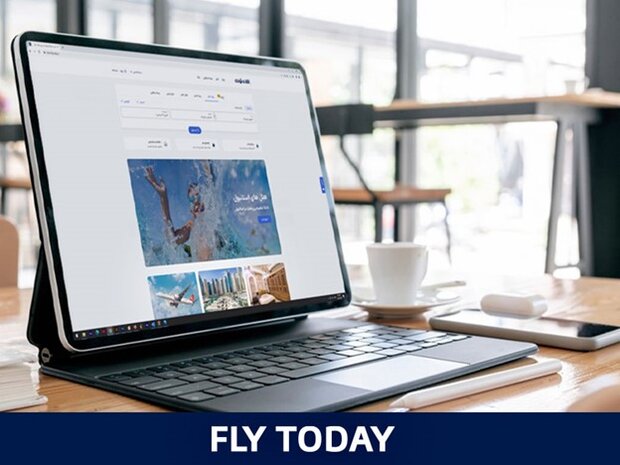 Flytoday
Flytoday offers the most competitive prices and the best selection of hotels for any travel destination. For hotel booking in Iran or abroad, Flytoday is your best choice.  With the help of the site's comprehensive search filter, you can find the perfect hotel in a matter of seconds, and you are able to take advantage of booking discounts as high as 70%.
Suppose you are looking for a quick and convenient way to book a flight and somewhere to stay. In that case, Flytoday will offer you the most affordable options for hotel reservation in Iran and abroad.
 
Final Thoughts
There you have it, our list of the best hotel booking websites for every taste and need. So you can use it to find your perfect reservation website. If you have any questions, please comment below.
 
Related Posts