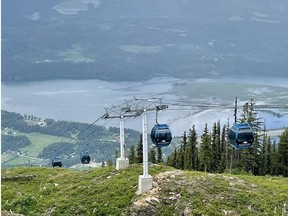 Reviews and recommendations are unbiased and products are independently selected. Postmedia may earn an affiliate commission from purchases made through links on this page.
Article content
This summer, there's a party in Revelstoke, and it's an "IYKYK" (if you know, you know) situation. My family now knows – and – we're all the better for it. The small town, coined Revy by locals, is legendary for its winters when thrill-seeking skiers and boarders flock to Revelstoke Mountain Resort for bucket loads of featherlight snow and 5,620 vertical feet of steep and deep terrain. Even I, a fair-weather skier who values cruisy blues and a great après scene, have heard the hype about the resort's extreme double-black diamond runs, like "Kill the Banker." However, only the cool kids seem to have caught on to Revy's hot summer vibe. Fearing the great outdoors and many of its offerings – think bears, bugs and backcountry – we hadn't considered Revelstoke a vacation contender. Well, "YDKWYDK" (you don't know what you don't know). As we've happily discovered, Revy has everything we need for an epic family vacation and more.
Article content
Downtown Revelstoke is ridiculously charming, and its local, independent retail game is strong. From adventure gear to art galleries, kitchenware to kids' clothes and toys, you'll find locally owned and often Revy-made goods in the picture-perfect storefronts lining the streets of the historic centre. Begbie Kids, for its clothing, books and toys, and the Sugar Shack's waffle cones and candy-lined shelves were, unsurprisingly, my daughter Brooklyn's favourite stops. We visited on a Saturday morning to check out Revy's weekly Farmers' Market street stands. The vibrant, well-attended affair is a colourful showcase of freshly picked produce, artisan jams, jellies and bread, candles, soaps, beadwork, and a mélange of crafts, giftware and baked goods. We brought Lulu, our French bulldog, along for the adventure, which apparently is the thing to do, as she was one of about 50 dogs wagging happily through the outdoor market. Post-peruse, we grabbed lattes and a vanilla steamer for Brooklyn from Dose – the hottest coffee house in town – and walked the Greenbelt Pathway alongside the Columbia River. The picturesque paved trail boasts sweeping mountain and water views and, although popular with cyclists and pedestrians, feels like a hidden gem given how few people we saw.
Article content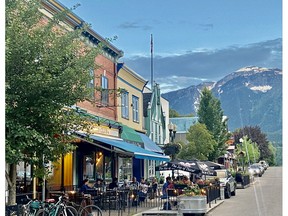 Revelstoke's downtown dining scene rivals its retail and stays on-brand with a surprisingly robust array of local and unique-to-Revy restaurants. A weekend trip isn't enough time to explore the town's top-rated eateries, but we did what we could. The Taco Club is a must for margarita aficionados and taco lovers, of which I am both. I also liked how the menu encourages mixing and matching tacos and has creative sides and the choice of corn or flour tortillas. The grilled Passilla Pork, Garlic Shrimp, and Beef Birria tacos were phenomenal, as was the smoky ancho chile refried bean dip and mango habanero margarita. Brooklyn was equally satisfied with her classic cheese quesadilla and housemade strawberry lemonade. Revelstoke's longstanding Woolsey Creek Bistro was our other delicious discovery. The quaint restaurant's summer menu, featuring aromatic curry mussels and tender braised beef shank, is well worth the 10-minute walk from the centre of town. Just as impressive are the dozens of original wildlife paintings displayed throughout the interior, which our budding artist, Brooklyn, enjoyed as much as her meal.
Article content
After dinner, we were in for another treat, Revy's Live Outside — 58 nights of live music performances from local, Canadian and international artists. Wow, what a fantastic initiative; kudos to Tourism Revelstoke and the entire mountain-loving community for supporting it. The nightly summer event in Grizzly Plaza draws a happy-go-lucky crowd, transforming the historic downtown into an outdoor patio party with locals and in-the-know visitors – of every age – dancing in the street. Chubby Funsters, a Revelstoke institution with a creative gastro-pub menu and excellent classic margarita, is a prime spot to take in the festivities. We slurped back a quick drink on the garden patio and then took to the street, joining the Revy revellers for their epic summer dance party.
Article content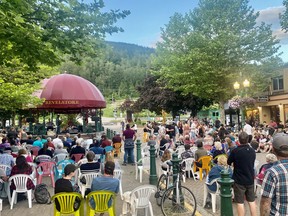 Longtime local Sally Robertson, principal of Revelstoke Select Vacation Properties, credits the town's strong community vibe to its rich and textured history. She shares, "Revelstoke is a friendly, welcoming and compassionate place to live, offering much more than a place to stop for gas on a summer road trip. Our downtown Tourism Centre is the best resource for discovering summer activities and outdoor adventure, including hiking trails, canoeing, fly fishing, rafting, mountain biking, golfing and more."
Enjoying downtime on vacation – after all of Revy's fresh air and excitement – is crucial for our family, and for Brooklyn, that means swimming. She would spend half of her time in the pool – bonus points if it's outdoors and serves lunch. Revelstoke Mountain Resort's Sutton Place Hotel receives top marks in every convenience category. Firstly, the outdoor pool and hot tubs are plenty large for the summer, and I managed to snag a plush, two-person chaise lounge. We also ordered room service via the onsite Rockford Grill to eat poolside. My husband's Maui Wowie burger was "top three of all time," as he repeatedly told me while scarfing down his double smash patty with grilled pineapple, applewood smoked cheddar and jalapeno. After conceding to a bite, I concur that it was very (very) tasty. The pet-friendly Sutton Place is a condo-style property, and the rooms are spacious, with three-bedroom units that can accommodate large families and come fully equipped with everything needed for cooking and laundry. We made breakfast daily, which made for lovely and leisurely mornings. While the hotel isn't in town, it's less than 10 minutes by car, so we were able to zip back and forth quickly.
Article content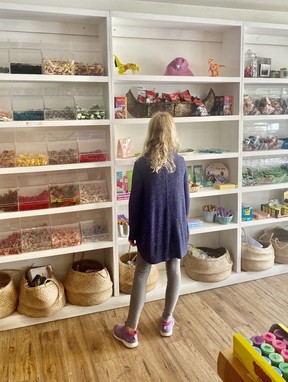 Staying mountainside makes it easy to experience the resort's activities, like the scenic gondola, mountain bike trails and the Pipe Mountain Coaster. We tried but failed to convince Brooklyn to take a spin on the 1.4-kilometre twisty turning summer thrill ride that weaves through forested ski runs and reaches upwards of 42 kilometres per hour. We settled instead on taking the gondola to the top viewpoint, eagerly searching for bears and wildlife in the brush below.
Having experienced how awesome Revy is in summer, I might take a chance on a winter ski trip. Sure, I may only manage a couple of the runs, but I'll find plenty to do off the hill between the resort's village spa and restaurants, the Sutton Place Hotel's outdoor heated pool, and Revy's epic downtown restaurant and shopping scene. After all, après-ski is always the main event for me.
If You Go
Revelstoke Select Vacation Properties is a fantastic local resource for booking and planning bespoke summer and winter vacations. Locally owned and operated, the onsite team has been in Revelstoke for over a decade and is well connected with restaurants, private vacation rentals, resort stays and adventure activities. Also, check Tourism Revelstoke for the town's ongoing – and exceptional – line-up of festivals, concerts and events. For more destination information, visit instagram.com/arrivals_travel.
Related Posts