In what has become a luxury all-inclusive arms race, Hilton has expanded its arsenal at a far more measured pace than its two main competitors in the space, Hyatt Hotels Corp. and Marriott International.
Hilton currently has 13 all-inclusive properties in its stable, which is dwarfed by the more than 100 all-inclusives in Hyatt's fold, the clear front-runner within the category, but not so far behind Marriott, which has scaled to more than 30 all-inclusives over the past few years.
Still, these numbers don't mean that Hilton has taken its foot off the all-inclusive gas pedal.
Hilton has added four all-inclusive properties in Mexico and the Caribbean since mid-2021, has two more in the pipeline and has its sights set on all-inclusive expansion in Africa and the Middle East.
Several industry analysts pointed out that while Hilton has been less aggressive in this market, both Marriott and especially Hyatt got jump-started via acquisitions. 
Hyatt's 2021 takeover of Apple Leisure Group and its sizable AMResorts all-inclusive arm helped give Hyatt "a big head start against the other major brands," said Robert Cole, Phocuswright's senior research analyst for lodging and leisure travel.
Likewise, Haydn Kramer, partner at consulting firm Valley of the Moon Partners, said that Marriott — which inherited a single Westin-flagged all-inclusive in Costa Rica as part of its 2016 Starwood acquisition — has been exceptionally quick to recognize the potential of all-inclusives. Marriott has rapidly augmented its all-inclusive portfolio in part by way of acquisition, such as of Elegant Hotels Group in Barbados in 2019, as well as strategic partnerships, including a long-term collaboration with Sunwing Travel Group's Blue Diamond Resorts in 2021.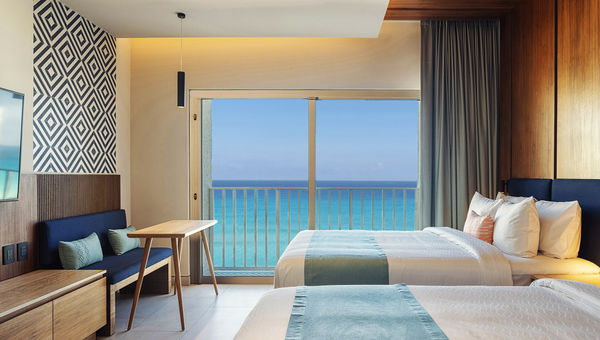 A double bed balcony beachfront guestroom at the Hilton Cancun Mar Caribe All-Inclusive Resort, which will open in November. Photo Credit: Hilton
While it's more limited in terms of size, Hilton has still managed to carve out a prominent all-inclusive foothold. 
"The Hilton Cancun is [often] ranked as one of the most popular all-inclusives," said Kramer, adding that Hilton has a reputation for being "really strong in terms of fine-tuning their product." 
Kristi Mackedanz, a travel advisor and founder of Florida-based KM Travel Designs, agreed, adding that resorts like the Hilton Cancun and Hilton Tulum "are great, especially for those clients starting out with all-inclusive."
The Hilton Cancun and Hilton Tulum Riviera Maya, along with the Hilton Vallarta Riviera in Mexico and the Mangrove Beach Corendon Curacao All-Inclusive Resort, Curio Collection by Hilton, have all opened in or joined Hilton's all-inclusive stable since 2021. 
More Hilton all-inclusives, meanwhile, are in the pipeline. Upcoming openings include the 540-room Hilton Cancun Mar Caribe, a revamp of the former Royal Uno All-Inclusive Resort & Spa in Cancun's Hotel Zone, and the 502-room Zemi Miches All-Inclusive Resort, Curio Collection by Hilton, a newbuild resort that will mark Hilton's first Curio property in the Dominican Republic.
The Cancun conversion is on track to be complete by early November, while the Zemi is expected to debut next year.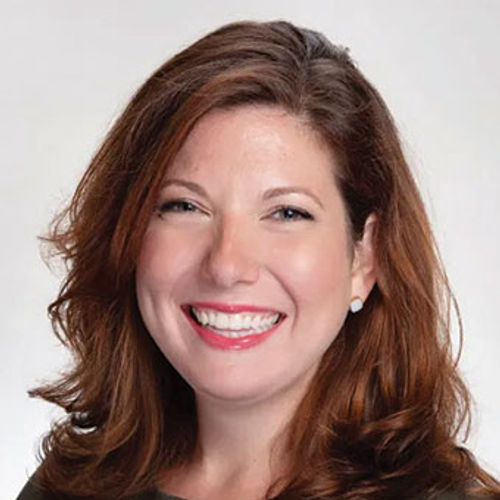 Nicole Tilzer
While other near-term all-inclusive announcements are likely to remain concentrated within the Caribbean and Latin America, Nicole Tilzer, senior director for all-inclusive and resort strategy at Hilton, said the group has its long-term sights set on other regions, specifically in Europe, the Middle East and Africa, or EMEA.
The company is "having a lot of conversations," especially about growing in the Middle East and Africa, Tilzer said, calling those areas "the bigger opportunity" for Hilton's all-inclusive portfolio moving forward. Hilton currently has a small EMEA all-inclusive presence, with four properties in Turkey and Egypt.
Elevating all-inclusives
Along with growing its global footprint, Hilton is focused on elevating its all-inclusive product.
Late last year, Hilton put its own spin on the premium- or club-level room concept with the introduction of Enclave, an all-inclusive room category that includes preferred accommodations with prime views and an Enclave lounge with elevated food and beverage. Other perks can also include dedicated concierge service, access to exclusive pool or beach areas and guaranteed reservations at certain restaurants.
Enclave has been rolled out at the Hilton Tulum Riviera Maya and Hilton Vallarta Riviera, and it will soon replace an existing premium room category and lounge experience at the Hilton La Romana in the Dominican Republic.
The concept is expected to eventually be added to all existing Hilton-flagged all-inclusives and be part of new Hilton-flagged all-inclusives moving forward. (An all-inclusive flagged under a Hilton soft brand will offer its own Enclave equivalent, branded under "a name that matches the identity of that property," Tilzer said.)
Demand for the Enclave product is well beyond Hilton's initial projections.
"We're seeing a lot of pickup for it through both leisure and group, which has been exciting," Tilzer said. 
Related Posts