The lack of full access to the $500 fare is limiting inter-regional travel, according to the Fédération des chambres de commerce du Québec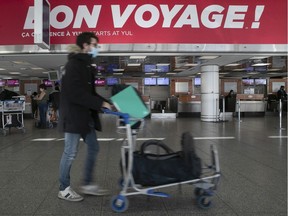 Article content
An organization representing 50,000 Quebec businesses is calling upon the Legault government to cap the fares of all regional flights at $500 rather than just those linking regions to major urban centres.
Article content
In a letter sent on Thursday to provincial Transport Minister François Bonnardel, the Fédération des chambres de commerce du Québec (FCCQ) said the lack of full access to the $500 fare is limiting inter-regional travel. The Fédération recommends that the $500 fare cap on flights connecting to Montreal or Quebec City be broadened to include all flight connections in Quebec's regions.
FCCQ president Charles Millard said that access to regional air transportation is essential to the vitality and economic growth of the regions.
Quebec's Programme d'accès aérien aux régions (PAAR) went into effect June 1 and consists of two parts — one for residents of the outlying regions of Abitibi-Témiscamingue, Côte-Nord and Basse-Côte-Nord, Bas-St-Laurent, Gaspé, Îles-de-la-Madeleine, Saguenay—Lac-St-Jean, Eeyou Istchee James Bay and Whapmagoostui — and the other for the rest of the public.
Residents of the outlying regions can claim a refund of 30 per cent to 60 per cent on their air fare and are not subject to any refund maximum. For the rest of the public, fares are $500 for a round-trip flight or $250 for a one-way ticket. Each traveller in the second group is entitled to six one-way fares or three round-trip fares per year.
The $500 price cap includes airport and security fees as well as taxes.
The PAAR has a budget of $86 million for two years.
Quebec to start offering $500 round-trip flights to remote regions

Josh Freed: Survival Guide to Canadian Flight Fright
Related Posts